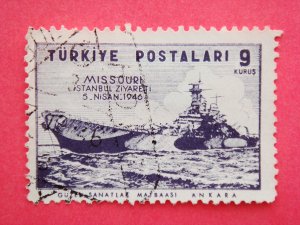 About the Stamp:
9 kurus stamp (in navy blue) printed probably a little after 1946 as a commemoration of United States Ship USS Missouri on her first voyage after World War II in an official visit to Istanbul bringing the remains of the first Turkish Embassador to United Stated Munir Ertegun to be burried in his homeland. Munir Ertegun was also the diplomat of the Ottoman Empire, a close aide to Mustafa Kemal Ataturk during the Turkish Independence War, and a counselor in law to the Turkish committee in the Treaty of Lausanne. He was also the father of Ahmet and Nesuhi Ertegun, the brothers who founded Atlantic Records and iconic figures of the American music industry.
USS Misouri on the other hand is the ship that was the last battleship built by the United States, and was the site of the surrender of the Empire of Japan which ended World War II. Later went on to fight in the Korean War (1950-1953). Nick named Mighty Mo or Big Mo. It was recommissioned and provided fire support during Operation Desert Storm. She was decommissioned in 1992, donated to the USS Missouri Memorial Association and became a museum ship at Pearl Harbor, Hawaii.
The date on the stamp shows 5 Nisan 1946 that is April 5, 1946. The very date USS Misouri arrived at Istanbul with Munir Ertegun's remains.
Printed by Guzel Sanatlar Matbaasi (Fine Arts Printpress) in Ankara as monochrome navy drawing on white background.
My Comments:
I picked this stamp to be my first one to blog about. Not only do I like the color, but the story behind the image really intrigued me. I did some research and learned things I never knew. And I guess that is the best part of collecting stamps. Images give a world of history. Every image used in a stamp is selected for a reason. Most have great cultural and historical significances. This one was just such example. I am glad to have seen this one. Hope so did you.
Stamped
@
http://stamped.ecrater.com/